Piñata Smashlings Huggable Plush DAZZLE DONKEY
Piñata Smashlings Huggable Plush DAZZLE DONKEY
SKU:
SL7008A-DAZZLE DONKEY
Product Specifications
Brand:

Piñata Smashlings

MPN:

SL7008

Type:

Soft Toys

Material:

Plush

AGE:

Baby

Colour:

Multi

Country of Origin:

China

Product Features:

Current, Huggable Plush

Product Theme:

Donkeys

Weight:

0.45 Kg

New:

Recently added to our Piñata Smashlings Range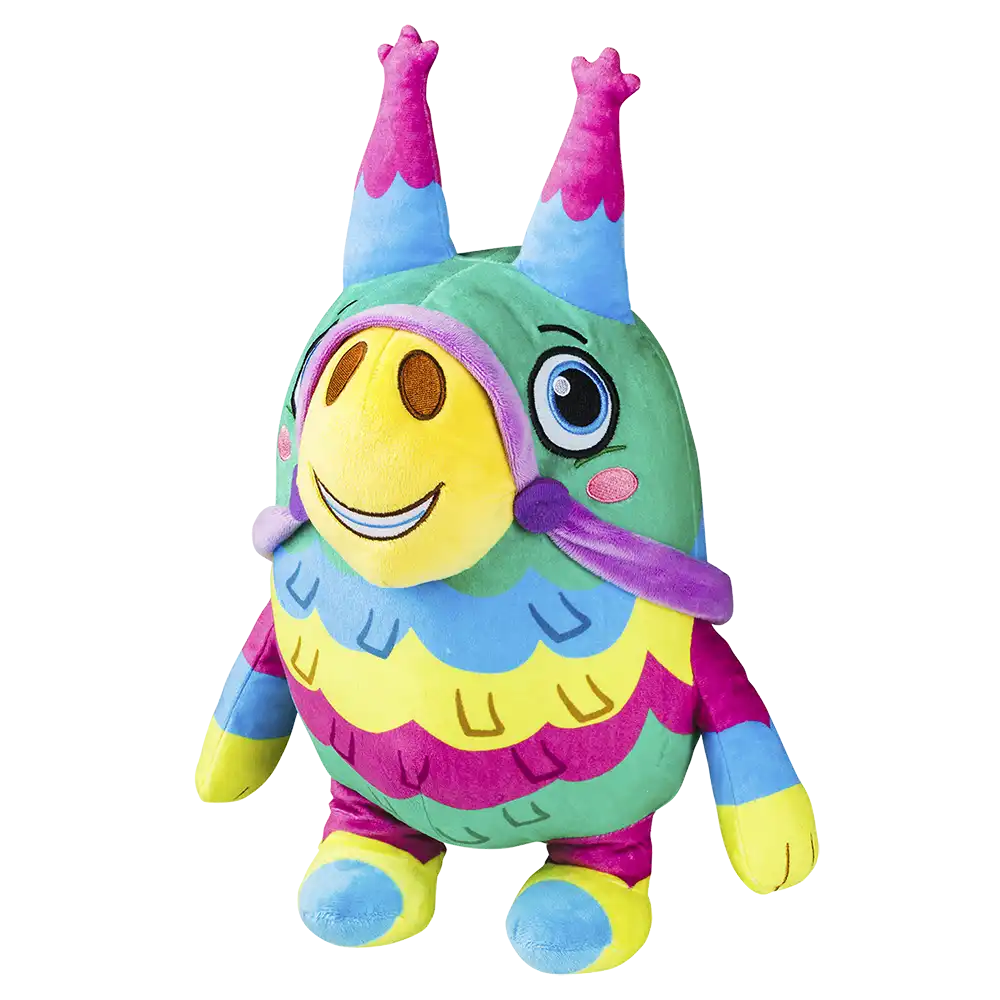 Product Information
This product for sale is the Piñata Smashlings Huggable Plush DAZZLE DONKEY. WWSM includes FREE Delivery to ALL UK destinations for these soft toy products.
Welcome to the world of Piñata Smashlings! Prepare for a journey into the magical, fun-filled Piñataverse, where laughter and joy are the order of the day. Your guide? Dazzle the Dizzy Donkey is a beloved character known for spreading happiness far and wide.
Introducing the Piñata Smashlings Huggable Plush DAZZLE DONKEY: a delightful blend of charm and softness that brings the enchanting Piñataverse directly to you. Based on the popular Piñata characters from the Roblox Game, this large-scale plush toy is designed for ultimate comfort and long-lasting cuddles.
Dazzle isn't just a plush toy; he's an ambassador of the Piñataverse, a realm filled with wise Piñatas, scheming Meañatas, and cheeky Smashlings. You can recreate your favourite gameplays with Dazzle or embark on new, imaginative adventures.
The Piñata Smashlings Huggable Plush range offers a tangible connection to the Roblox game, and each toy also comes with a redeemable digital code for the Piñata Smashlings Roblox Game! It's the perfect blend of physical play and digital exploration.
Suitable for all ages and styles, the Piñata Smashlings Huggable Plush DAZZLE DONKEY is more than just a toy -- a passport to a world of fun, adventure, and endless possibilities. Collect them all and let the magic of the Piñataverse unfold right at home!
Please Note: Styles vary; one is supplied.

Piñata Smashlings Facts: -
INTRODUCING THE PIÑATA SMASHLINGS TOY LINE! The Roblox game that has been making waves all over the world is now coming to life! Go on daily adventures with your Piñata Smashlings Roblox Toys!
SUPERSOFT COLLECTABLE PLUSH! Cute and cuddly large scale plus.
MEET DAZZLE THE DIZZY DONKEY! Dazzle is one of the Piñatas, who is known within the Piñataverse for laughter, giddiness, and their love for joy. Everyone loves Dazzle... well except those no good Meañatas and bitter Bashlings.
CREATE YOUR OWN PINATAVERSE ADVENTURES AT HOME! The Piñata Smashlings Huggable Plush are the perfect size to cuddle up to!
INCLUDES REEDEMABLE ROBLOX CODE! Within each pack, you will find a redeemable DLC code to use within the Piñata Smashlings Roblox Game!
What's Included?
Collect Them All: -
Dazzle Donkey (This One)
Luna Unicorn
Mo Tiger
Sana Panda
Product Dimensions:
Length: 18cm
Height: 33cm
Width: 16cm
All measurements are approximates to the nearest 0.5cm
Packaging Dimensions:
Length: 17cm
Height: 39cm
Width: 16cm
All measurements are approximates to the nearest 0.5cm
Safety Information:
Further Information:
Please remove all packaging attachments before giving this product to a child.
Please retain packaging and purchase details for future reference as they contain important information.
Product specifications, colour and contents may vary from those illustrated.
New Products in Soft Toys
Delivery Information
Free Delivery
FREE DELIVERY is available with this product for any orders shipped to UK addresses. This is our standard delivery service for which we use Royal Mail Tracked 48. Royal Mail aim to deliver by the third working day after shipping.


Next Day Delivery Available
NEXT DAY DELIVERY on this product for UK is £5.99. We use the Royal Mail Tracked 24 Delivery Service for orders placed, using the Next Day option at checkout. We ship orders Monday-Friday, so an order placed on one of these days should arrive the following day. Orders placed on a Saturday or Sunday would be shipped on the following Monday to arrive the next day (Excluding bank holidays).
PLEASE NOTE: Cut Off Time for Next Day Delivery is 1pm any order placed after this time will be shipped the following day.
For more details, refer to our Delivery Information page.