Airfix Hawker Siddeley Harrier GR.1/AV-8A Model Kit A04057A Scale 1/72
Airfix Hawker Siddeley Harrier GR.1/AV-8A Model Kit A04057A Scale 1/72
Product Specifications
Brand:

Airfix

MPN:

A04057A

Scale:

1/72

Type:

Aircraft

Material:

Plastic

Model:

Harrier GR.1/AV-8A Kit A04057A

AGE:

8+

Colour:

Multicoloured

Country of Origin:

India

Product Features:

Requires Painting

Product Height:

5.04 cm

Product Length:

19.8 cm

Product Width:

10.7 cm

Sub Type:

Kit

Product Theme:

Militaria

Year Released:

2023

Weight:

0.212 Kg

Number of Pieces

114

New:

Recently added to our Airfix Range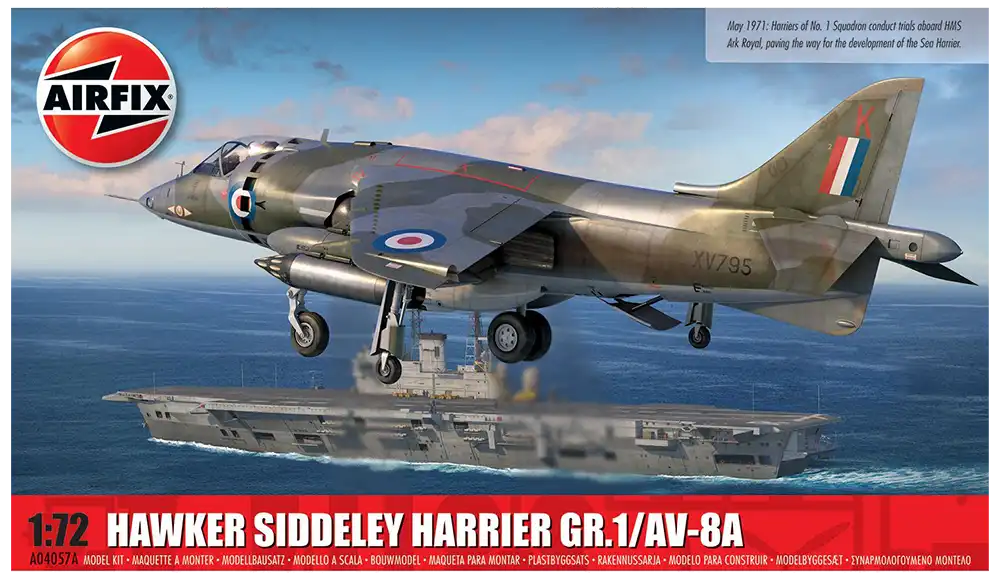 Product Information
This product for sale is the Airfix Hawker Siddeley Harrier GR.1/AV-8A Model Kit A04057A Scale 1/72. WWSM includes FREE Delivery to ALL UK destinations for these model kit products.
The Hawker Siddeley Harrier GR.1 and its American counterpart, the AV-8A, are iconic for their role as the first operational jet aircraft capable of vertical/short takeoff and landing (V/STOL) due to their revolutionary Pegasus engine.
Here's a detailed overview of the aircraft: -
Origins: The Harrier GR.1 is a development of the earlier Hawker Siddeley Kestrel, an evolution from the P.1127 experimental aircraft.
Manufacturer: The aircraft was developed by Hawker Siddeley in the UK.
Role: The GR.1 was primarily a ground attack and reconnaissance aircraft for the Royal Air Force.
Engine: It was powered by the Rolls-Royce Pegasus turbofan engine. The unique feature of this engine is its four rotating nozzles that allow the aircraft to direct thrust downwards for vertical takeoffs/landings or rearwards for forward flight.
First Flight: The Harrier GR.1 first flew in December 1967.
Operational Service: The GR.1 entered service with the Royal Air Force in 1969. It was designed for operations from rough forward operating bases, potentially near the front lines.
Armament: The GR.1 was armed with two 30mm Aden cannons and could carry a range of ordnance on its underwing pylons, including rockets, bombs, and, later, Sidewinder air-to-air missiles.
AV-8A Harrier: This is the American version of the Harrier GR.1. The U.S. Marine Corps saw the potential of the Harrier and acquired their version, the AV-8A, starting in the early 1970s. The AV-8A was similar in many respects to the GR.1 but had some modifications to meet USMC requirements.
Legacy: The Harrier GR.1 and AV-8A marked the beginning of the Harrier family line, which saw various improved versions over the decades, including the Sea Harrier for the Royal Navy, the Harrier GR.3, GR.5, GR.7, and GR.9 for the RAF, and the AV-8B for the USMC.
Retirement: Their more advanced successors eventually replaced the original GR.1s and AV-8As. Still, they left a lasting legacy as the pioneering V/STOL jet fighters that saw service in various conflict zones, proving the concept's viability.
The Harrier remains an iconic aircraft, with its distinctive silhouette and its unmatched V/STOL capabilities setting it apart from other jet fighters of its era.

Model Kit Specifications:
Number of Parts: 114
Completed Model Length: 19.8cm
Completed Model Width: 10.7cm
Completed Model Height: 5.04cm
Model Scale: 1:72
Can be completed in two Schemes: -
Scheme A Hawker Siddeley Harrier GR.1: Squadron No.1(F) , Royal Air Force Wittering, England, aircraft embarked on carrier trials, HMS Ark Royal, May 1971.
Scheme B Hawker Siddeley AV-8AHarrier: Squadron VMA-231 'Ace of Spades', United States Marine Corps, Naval Air Station Fallon, Nevada, USA, 1983.
What's Included in the Kit?
Unassembled Plastic Model Kit (Assembly Required)
Decals Sheet
Set of Instructions
Paint Layout Sheet
Paints, Adhesive and Paintbrushes are NOT Included. These are sold seperately.
Packaging Dimensions: Length:28cm Height:16cm Width:5cm All measurements are approximates to the nearest 0.5cm
Safety Information: Suitable for ages 8+. Model Making should always be done under adult supervision.
New Products in Military Aircraft Post 1945 Post-1945 Military Aircraft Model Kits
Delivery Information
Free Delivery
FREE DELIVERY is available with this product for any orders shipped to UK addresses. This is our standard delivery service for which we use Royal Mail Tracked 48. Royal Mail aim to deliver by the third working day after shipping.


Next Day Delivery Available
NEXT DAY DELIVERY on this product for UK is £5.99. We use the Royal Mail Tracked 24 Delivery Service for orders placed, using the Next Day option at checkout. We ship orders Monday-Friday, so an order placed on one of these days should arrive the following day. Orders placed on a Saturday or Sunday would be shipped on the following Monday to arrive the next day (Excluding bank holidays).
PLEASE NOTE: Cut Off Time for Next Day Delivery is 1pm any order placed after this time will be shipped the following day.
For more details, refer to our Delivery Information page.